MAKE THE RIGHT CHOICE
Switch to Solar
Helping residential and commercial property owners save money by going green.
San Francisco Bay Area Solar Installer
Cobalt Power Systems: Your Solution to Solar
Our San Francisco Bay Area solar company has been providing affordable and reliable solar power for homes and businesses since 2003. In that time, we have completed more than 3,300 photovoltaic systems, all while maintaining an unwavering dedication to superior customer service.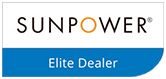 We are committed to providing the highest quality solar, which is why we offer SunPower® panels.
The SunPower

Advantage
SunPower® leads the industry for making the most efficient panels in the world while building and maintaining the highest quality standards through rigorous testing. Their all-black design provides a sleek look, with all the circuitry on the back of the cell, allowing more power to be produced. SunPower® is a trusted name in the San Francisco Bay Area solar industry because:
A SunPower® system will deliver 50% more energy in the first year
The world's most efficient solar panel
Durable under all elements with a strong copper backing and thicker strain relief connectors
Industry leading product warranty of 25 Years
More energy produced with less roof space
Our Partnership with SolarEdge
The SolarEdge Optimized Partner program is a network of elite SolarEdge installers who represent the highest standard in quality and customer service. We use SolarEdge inverters and optimizers on our commercial PV projects. As a SolarEdge Optimized Partner, our service to our commercial customers is enhanced with priority training and technical support from the leading inverter manufacturers. You experience precision solar installations and superior service.

Reviews from Our Happy Customers
Cobalt was among the most professional team that we have used - Ed K.

Cobalt was reliable, effective, and knew how to get things done. - Gil

With Cobalt, I had a lot of confidence from the start. - Evan

The installation of panels on my roof was done very well. - Max

The experience was very pleasant; the Cobalt team was very knowledgeable and informative. - Anders
Free Consultation

Every house or business is different, which is why we take the time to create the perfect design for your home or building – entirely free of charge.

System Installation

Our San Francisco Bay Area solar experts install your system, making sure everything is done to code and working properly.

Solar

Activation

Finally, we will perform a check of the system and finalize your solar with the city & local utilities so you can start saving money.